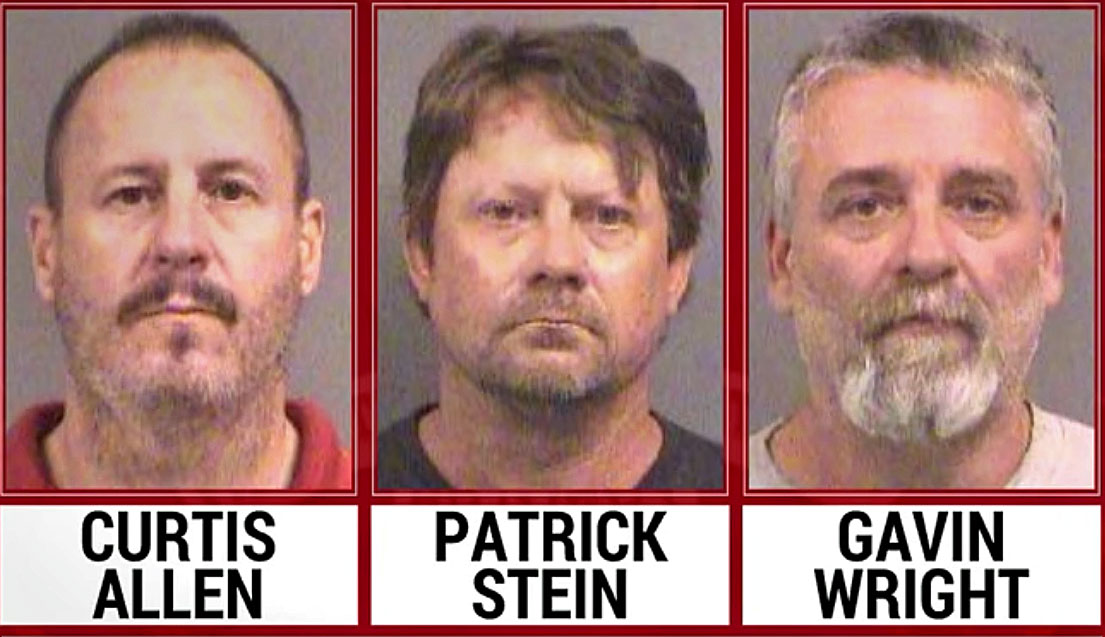 Patrick Stein, Gavin Wright and Curtis Allen are charged with conspiracy to use a weapon of mass destruction and conspiracy against civil rights. Stein also faces a weapons-related charge and Wright has an additional charge of lying to the FBI. The three militia members are accused of plotting to bomb a mosque and apartment complex primarily housing Somali refugees and immigrants in the southwest Kansas town of Garden City. The three Boomer generation white men, who were indicted in October 2016, have pleaded not guilty.
Their plan was to detonate bombs at the residential complex and open fire on survivors on November 9th 2016, one day after the US presidential election.
The Garden City apartment complex had about 120 residents at the time of the plot, and that one of the units was allocated for use as a mosque for residents, many of whom worked in the slaughterhouse and meat packing plants in Garden City and Liberal, in what is referred to as the 'meatpacking triangle' of Kansas. Packinghouses in the U.S. have relied on the underpaid labor of immigrants for generations.
Wright, Stein, and Allen plotted their murders in an old and rusty half-cylindrical Quonset hut in Wright, KS, a few miles from Dodge City. It is claimed the three were members of the Crusaders Militia and had stockpiled weapons and ammo in Wright, with explosives in Liberal, about 90 miles away. The Crusaders Militia takes its name from the medieval Catholic Crusades of the Holy Roman Empire. Modern references put heavy emphasis of how the crusaders slaughtered Muslims in the name of the Catholic church. Members of the Crusaders Militia referred to Somalia Muslims as an "invading horde," an "infestation," and "cockroaches" and casually used the N-word. In jury selection on March 20th, 2018, the defense dismissed prospective jurors if they had objections to racist language. That's a good method for stacking a jury with racists to find other racists innocent of planning racially and religiously motivated mass murder.
Defense attorneys argued the case is "uniquely political" because much of the anticipated evidence is in reaction to the 2016 presidential election. They contended the case will require jurors to weigh evidence regarding whether the alleged conduct constitutes the crimes charged, or whether it is constitutionally protected speech and assembly and implicates the right to bear arms.
The defense attorneys are trying to claim attempts at a localized genocide as justified action because three white men had to endure the existence of people that didn't look like themselves in a 100-mile radius. This is the basis of the "white genocide" myth which props up attempts at white ethnostates.
Since the arrests of the Crusader Militia, approximately 200 Somalis from Liberal have moved north to Garden City to show the community they are not threatened by Christian nationalists.