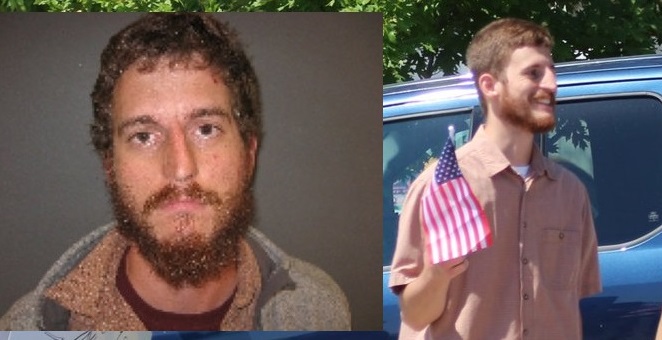 Taylor Michael Wilson, 26, of St. Charles, Missouri was arrested in Furnas County, Nebraska, on October 22 after pulling the emergency stop and attempting to derail an eastbound Amtrak train near Oxford, Nebraska. Wilson was armed with multiple handguns when he entered the train's engine room and began "playing with the controls" in the engineer's seat. Wilson reportedly shouted "I'm the conductor now, bitch" when confronted by Amtrak staff.
When arrested, aside from multiple handguns and a backpack full of knives, tools and a gas mask, Wilson also had business cards from the Michigan-based neo-Nazi National-Socialist Movement, and the Alabama-based Covenant Nation Church, whose gospel claims Jewish people are devils and that the "Lost Tribes of Israel" are white Americans. The Christian Nationalist movement is tied to assassinations of doctors that perform abortions, clinic bombings, racially-motivated attacks, and the Sovereign Citizen and Patriot militia movements. Wilson's cousin and roommate is quoted in the affidavit as saying Wilson expressed desire to kill black people and he went to Charlottesville, VA with "alt-right Neo-Nazis", and that the group was responsible for putting up "Whites Only" signs in restaurants around St Louis.
According to the affidavit, a search of Wilson's cell phone turned up photos and video of a banner that matches this banner tweeted by @AltRightSTL on August 9th, it was also tweeted with an Identity Evropa hashtag by a now-suspended account named "Fashy_Positivity" / @JohnathonMcste1. This account not only claimed to be in Charlottesville with Identity Evropa, and that "racist skinheads" hijacked the march, but it stopped tweeting the day before Wilson's arrest.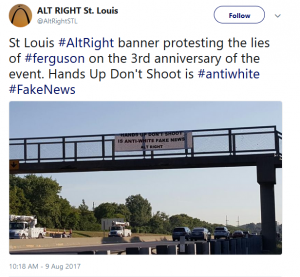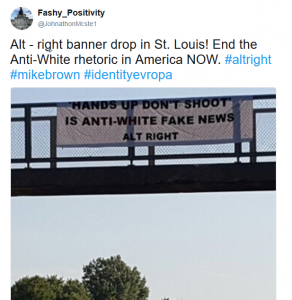 On July 7 2018, in Lincoln, NE federal court, Wilson will formally change his plea to guilty. His attorney Jerry Sena told reporters this plea will keep the case from going to trial, as he and the Nebraska Attorney General's office work on a plea deal, which will allow Wilson to face a lesser set of charges. Wilson was initially charged in Nebraska with "felony criminal mischief" and use of a deadly weapon during the commission of a felony and later released on 10% of a $100,000 bond, listing his parent's St Charles home at 3208 Lightfoot Drive as his address.
His parents originally attested that Taylor lived with his cousin but they didn't know where. It was later discovered Taylor and his cousin Andrew Olney lived in a home owned by Taylor's parents.
Wilson was charged in Nebraska federal court with "terrorism attacks and other violence against railroad carriers and against mass transportation systems." Wilson was again arrested on December 23 2017, when his home was searched after Olney spoke with the feds, and a false wall was discovered behind a refrigerator containing more than 1,000 rounds of ammunition, "white supremacy documents and paperwork," handmade shields, tactical vest, gunpowder, drum-style ammunition magazine for a rifle, and a "pressure plate" that was described as a device commonly used to construct an improvised explosive device. Wilson's father turned over body armor and 15 rifles and pistols that belonged to his son, two of which carry separate charges. An unregistered automatic rifle, 7.62x25mm Tokarev PPS43-C and the other being an unregistered short-barrelled rifle which is really a 9mm Scorpion EVO 3 with a stock attached.
The Scorpion manufacturer says attaching a stock or something intended to be used as a stock to the pistol "constitutes the making of a short-barreled rifle which requires registration with ATF."
The false wall was described as well-concealed with trim intact. Here is an earlier photo from a realty website listed as the same address for Taylor Wilson and Andrew Olney in the affidavit, 210 Reservoir Ave, the home owned by Michael D and Ann S Wilson. The home they claimed to not know their son or nephew were living in before Wilson's arrest. Olney attested that the two moved in to the home in June 2017.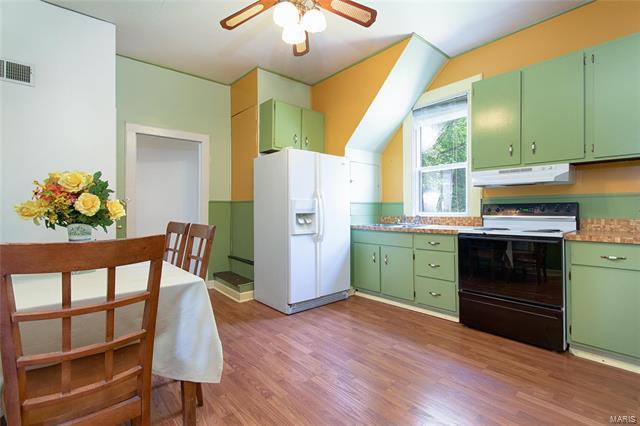 Taylor, left, in an untucked adobe button-up, was photographed at an anti-Muslim hate rally organized by the hate group Act for America on June 10, 2017 in St Charles. (Photo credit: Heather De Mian / @MissJupiter1957) Act for America is intertwined with top-level US government officials like Secretary of State Mike Pompeo and former National Security Advisor Michael Flynn. The president of Act for America brags about her "direct line" to Trump in fundraising emails.