UPDATE: Matt was kicked out his band, barred from multiple venues, and fired from his screenprinting job.
Matt Johnson, a well-known drummer in Omaha's metal scene is also a "white identitarian" fascist associated with Identity Evropa. Currently, Matt Johnson played with the death metal band Autopsick (formerly known as Rotting Malignancy) and has also played drums in Byleth. Matt Johnson was working at Impact Merchandising screenprinting shop in the same Midtown Omaha neighborhood where white nationalist and neo-Nazi flyers keep appearing and keep being removed. Matt has since been fired from that job. Impact Merchandizing is a sister company to Drastic Plastic, which has published reissues for neo-Nazi band Death in June albums.
Identity Evropa focuses on recruiting college-aged, white students in order to discuss "race realism" and white interests such as racism and reverse racism. Targeting disaffected young men, IE brands itself as a fraternity and social club. Matt Johnson is in the backrow on the far right of this member photo aptly file-named on the IE website as "member photo" because why hide?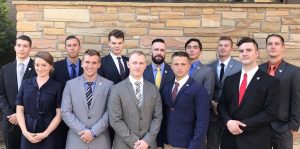 We first became aware of Matt Johnson by way of his comments on a Youtube video (live and archived comment links because he's changed his name to Kraise Pek http://archive.is/fzR6L) from 3 News Now coverage of alt-right cards left behind on a Black man's car with broken windows. The same cards now linked to a Hastings, NE man, William G Rempel aka Tiptiptopkek.
Autopsick in the studio recording drums for their song 'Await Your Demise'  filmed by guitarist and band mate Spencer. Another comment of Oktoberfaust raised some flags, when he commented on a fan-made best-of video for The Daily Shoah, the once and final home of aspiring Vanguard America organizer and fellow Omahan, Cooper Ward.
Since the election of Trump, Matt Johnson has spent many hours on the now-deplatformed Daily Stormer and has sheared his head-banging mane in favor of the Nathan "woman puncher" Damingo-style fashy haircut. Matt is so starved for a sense of belonging and a confirmation of possessing intelligence and masculinity, like many of these up-and-coming fascists, they will fall into any trends that present themselves. This is how Matt Johnson found himself driving to Burns, Tennessee in that cute little car with the vanity plate GNOS1S (Greek for knowledge of spiritual mysteries) to attend the 15th annual American Renaissance conference, hosted by "race realist" Jared Taylor. Only things didn't go as traditionally unnoticed as the many previous gatherings of these suit and tie educated racists. Antifa made a large showing, gathered plenty of mysterious intel, and Taylor himself questioned the viability of continuing his conference in 2018. Okay, so our intel wasn't that mysterious. We saw you inside taking photos at the "antifa zoo" and we later wondered, what did Richard Spencer order for dinner when you sat with him that night?
Matt Johnson is a screenprinter by trade, a drummer by practice, and a fascist by design. The Omaha music scene must not allow racism or Johnson's brand of "academic fascism" to take root.