We identified Dan Kleve as a member of Vanguard America shortly before the Unite the Right rally in 2017, (and a year later as a member of Identity Evropa). We saw his violent attacks while in Charlottesville and his Facebook posts of guns and neo-Nazi literature, so we asked the University of Nebraska-Lincoln if they felt comfortable having a student representing them in such a violent and public manner, and if they felt the campus was safe by allowing him to return for the fall semester. UNL unequivocally said yes, having a violent, armed neo-Nazi on campus isn't an issue for them.
Dan Kleve continued his public neo-Nazi propaganda campaigns for Vanguard, for Daily Stormer, for Identity Evropa, and his own group Alt Right Nebraska where he was part of a six person flash demo at the unoccupied state building. Along with his flyering and vandalizing, and either direct involvement with or the orchestration of racist harassment of recipients of a church food bank in Lincoln, Kleve also appeared on podcasts and livestreams. In January 2018, Dan Kleve appeared in a Google Hangouts livestream for Identity Dixie's Blake Lucca. In the two hour chat, Kleve talked about the time he wanted to shoot and kill a black coworker, and how he loves violence. Again we asked if this new information warrants any action from UNL. Again UNL looked away. In February 2018, he was flown out to New Jersey by the hosts of The Daily Shoah podcast to be a guest of honor at TRStlemania, a secret annual live taping of TDS.
At the same time, UNL student athletes headed to the NCAA basketball playoffs used their collective public platform to call attention to what their university was refusing to acknowledge. The Huskers basketball team began the "Hate Will Never Win" campaign on February 10. They made tshirts for the men's and women's teams to wear during warm-ups. It was covered by ESPN, Sports Illustrated, Big 10 Network, CBS Sports, USA Today, Business Insider, Yahoo! Sports and others.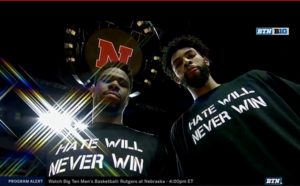 Suddenly the University was in full support of the student campaign. A rally was held at the Coliseum and over 1500 students attended.
Newsweek published an extended profile of Dan Kleve and two other neo-Nazi students at other universities on February 13 2018.
Kleve mentioned on his Facebook that people mean-mugged him in the gym and he felt it was unfair that he, the proud neo-Nazi, was now scared and needed a private gym membership.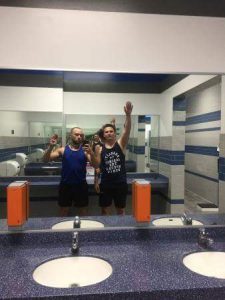 People that had classes with Kleve started talking about how he wasn't showing up and that made them just as nervous as when he was in class. This fear was made worse when on March 6, a student was charged with a felony for carrying a gun in his backpack on campus, and the bigger realization that the school invites students and staff to use free on-site gun lockers.
UNL senior charged with felony for bringing gun on campus. But, uh, excuse you? "Students and staff are able to store firearms in lockers at the university police department for free." https://t.co/hq5ouAWcQK

— nebraska antifa (@antifa_ne) March 7, 2018
Where is Dan Kleve now?
Well, he isn't a UNL student and hasn't been since the end of the Spring 2018 semester. He currently lives with Haley Copeland (Zdravich) in her disabled mother's spare room in Sebring, Florida.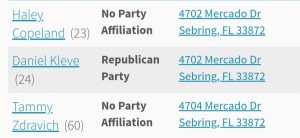 Haley Copeland and Dan Kleve were featured together in a previous Newsweek article when they harassed a Sunday church congregation on behalf of Identity Evropa in Antioch, Tennesse during the series of failed "White Lives Matter" rallies in October 28-30 2017. The church was the site of a mass shooting a month prior by a Sudanese man. Eli Mosley, leader of Identity Evropa at the time, denied when asked by Newsweek if it was an Identity Evropa event. Kleve became a dues-paying member of IE earlier that week.
Haley spoke to Newsweek using the name Leah. She has a lot of names. Haley Olivia, Haley Zdravich and Haley Copeland.
"This is not something that should be forgotten," Leah said to Newsweek about the mass shooting that was allegedly perpetrated by Samson. "I'm here for the interests of our people and our country."
Kleve and Copeland attended multiple other rallies together including Unite the Right August 11 torch rally and August 12 march.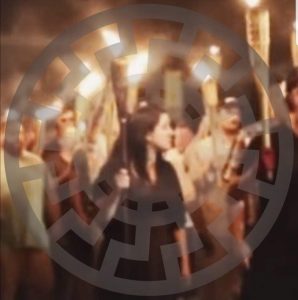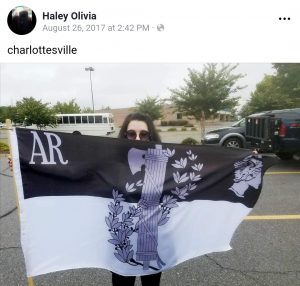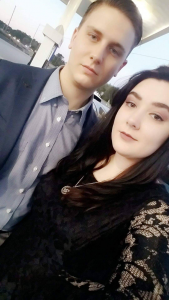 Copeland's mother was disabled in a work accident and can no longer do the heavy lifting required of a nurse, and she has roof damage that she cannot pay to repair. It probably doesn't help that her daughter's dropout neo-Nazi boyfriend moved in to hide from the scary antifa basketball team.